The Editor's pick:
Thursday 12 December Britain's attitude towards Academic Refugees A talk concerning Pre-war and modern British attitudes to Academic refugees.
See more talks like this in: arts / finearts / film / film / history
Thursday 12 December A Girl called Anne - Anne Clifford & Anne Murray Lecture by Lizzie Jones
See more talks like this in: society

Thursday 12 December Is Europe Working? Department of Economics Regius Professorship inaugural lecture
See more talks like this in: academic / economics / nobelprize
Saturday 14 December Christmas Chocolate House Tour An immersive guided tour of the decadent chocolate houses of Mayfair and St James's with free servings of delicious Baroque hot chocolate.
See more talks like this in: business / ethics / corporateresponsibility / csr / city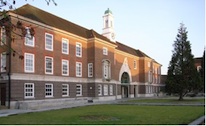 Thursday 13 February The state, the university and liberal education: a complex relationship between piper and tune This interdisciplinary symposium questions how far the concept of the public nature of higher education depends on state funding, regulation and support.
See more talks like this in: academic / education / regulation