Beyond the Veil - a closer look at spirits, mediums and ghosts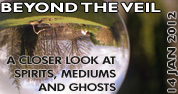 Beyond the Veil - a closer look at spirits, mediums and ghosts
Speakers:
CHRIS FRENCH - Spirits on the brain: Insights from psychology and neuroscience
Chris French is a Professor of Psychology and Head of the Anomalistic Psychology Research Unit at Goldsmiths, University of London. He is a Distinguished Supporter of the British Humanist Association and former editor of the Skeptic.
HAYLEY STEVENS - 'Is there anybody there?'
A ghost hunter that doesn't hunt for ghosts, Hayley Stevens has been researching paranormal reports since 2005. She is the co-host of the Righteous Indignation Podcast, blogs at 'Hayley is a Ghost', occasionally writes for numerous publications, and has spoken internationally about ghosts and critical thinking.
PAUL ZENON - Mediums at Large
Paul has been a professional trickster for almost thirty years during that period has appeared countless times as performer, presenter and pundit on numerous TV shows across many genres.
RICHARD WISEMAN - Parnormality
Richard Wiseman is the Professor for the Public Understanding of Psychology at the University of Hertfordshire. He has been active in the skeptical movement for many a year, does Twitter stuff, has recently written 'Paranormality: Why we see what isn't there', and likes dogs.
IAN ROWLAND - You Are The Magic
Ian Rowland is a writer and entertainer with an interest in various aspects of how the mind works or sometimes doesn't. He taught FBI agents how to be persuasive, and taught Derren Brown how to read fortunes. In America, in front of 10 million TV viewers, he proved that he could talk to dead people - or at least fake it well enough to convince complete strangers. He knows an awful lot about cold reading (look it up), but tries not to drone on about it at parties. He is good at drinking tea and waiting for interesting invitations to come his way.
Register to tell a friend about this lecture.
Comments
If you would like to comment about this lecture, please register here.