Concrete Prehistoric Monsters: Richard Owen's Crystal Palace Models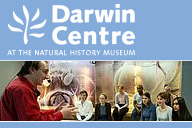 Richard Owen oversaw the construction of the first ever full-size dinosaur models, and when they went on display in 1854, Victorian Britain was struck with the first ever outbreak of 'dinomania'. Join the Museum's Associate Keeper of Palaeontology, Angela Milner, to explore the scientific evidence that led to the reconstructions and how they compare with today's ideas of how these animals looked.
Register to tell a friend about this lecture.
Comments
If you would like to comment about this lecture, please register here.