UCL Bite-Sized Lunchtime Lecture: Body Clocks and the Brain, plus Spirituality in Literature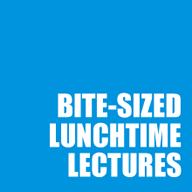 This week, we learn more about zebrafish and what we can learn about our own body clocks by studying them, and the problem of expressing spirituality in literature.
Neuroscientist Helen Moore uncovers how we can use light more effectively in our day-to-day lives. She also explains what we can learn about our own body clocks from those of zebrafish, which have not only light-sensitive eyes, but also light-sensitive brains.
Sara Vaghefian (UCL Department of French) explores spirituality in French and Arabic literature, and the problem of expressing the other-worldly in language.
Join us for an inspiring lunch hour and take the opportunity to quiz some of UCL's early-career researchers about their work.
More info: www.ucl.ac.uk/public-engagement/opportunities/bite-sized/Bite-Sized2012Spring
Twitter: www.twitter.com/BiteSizedUCL
Facebook: www.facebook.com/BiteSizedUCL
Register to tell a friend about this lecture.
Comments
If you would like to comment about this lecture, please register here.