Spiders in the Movies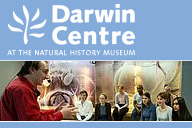 From radio-active spiders that can give you 'spider sense' (Spider-Man), to giant jungle beasts running rampage through small USA towns (Arachnophobia), Hollywood loves a spider scare story. Join the Museum's own spider-woman, Janet Beccaloni, to explore the myths behind the movies and find out where film and fact meet.
Register to tell a friend about this lecture.
Comments
If you would like to comment about this lecture, please register here.