NASA's Juno Mission to Jupiter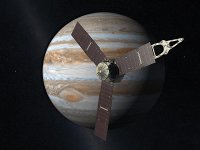 Look inside the giant planet in this free public lecture by Professor Fran Bagenal.
Prof. Fran Bagenal of the University of Colorado's Laboratory of Atmospheric & Space Physics will tell us about NASA's Juno spacecraft and its mission to Jupiter. Juno is currently flying through the asteroid belt and will arrive at Jupiter in about 5 years time. It carries instruments that will see deep inside the planet, measuring the amount of water it contains and studying its aurorae - Jupiter's northern and southern lights.
This is a free lecture as part of the National Astronomy Meeting 2012 which is being hosted by the University of Manchester. It is aimed at a general public audience and will also be suitable for older school students. Advance booking via the NAM2012 website is essential.
Register to tell a friend about this lecture.
Comments
If you would like to comment about this lecture, please register here.