Climate Change and Forests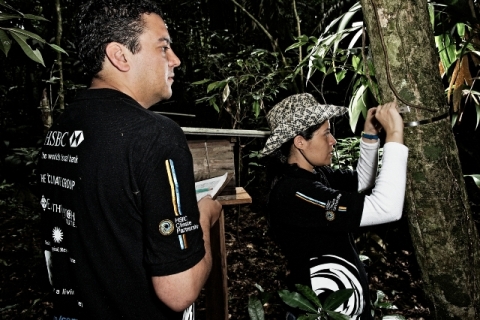 Join our chair, Kate Humble, as we explore how citizen scientists researched the most pressing environmental issue of the age.
31% of the world's entire land mass is forest, which is home to a staggering 80% of terrestrial biodiversity. Forests also play a vital role in climate change, because they influence weather patterns, and trees capture and store carbon.
However, climate change affects the growth of trees, and this process is poorly understood by scientists.
Over the past five years Earthwatch has undertaken a global programme of forest research to determine how temperate and tropical forests are being affected by changes in climate and other human-related activities such as logging.
Based at dedicated forest research centres in China, India, Latin America, North America and Europe, Earthwatch scientists, supported by local community members and HSBC employees, carried out field work to measure the health of our forests.
This outstanding example of the power of 'citizen science' was part of Earthwatch's contribution to the HSBC Climate Partnership.
Join us as we explore the findings this important research, putting the results in the context of global forest research and policy, and showing how citizen scientists have both contributed to, and benefited from, field research into the most pressing environmental issue of the age.
Speaker(s):

Ms Kate Humble | talks
Dr Dan Bebber | talks
Prof NH Ravindranath | talks
Prof Yadvinder Malhi | talks


Date and Time:

17 May 2012 at 6:00 pm

Duration:


2 hours 30 minutes

Venue:


Royal Geographical Society
1 Kensington Gore
London
SW7 2AR
020 7501 3000
http://www.rgs.org
Show map



Organised by:


Tickets:

Free

Available from:

http://www.earthwatch.org/europe/

Additional Information:

Doors open: 6pm. Lecture: 7-8.30pm. Cash bar until 10pm
Register to tell a friend about this lecture.
Comments
If you would like to comment about this lecture, please register here.