Journalism, Churnalism and Media Bias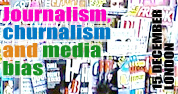 To what extent is journalism independant, inquiring and truthful?
How much journalism is churnalism - the uncritical regurgitation of press releases? To what extent can we trust what we read in the press about medical and other scientific discoveries and breakthroughs? How impartial is mainstream media coverage of key political and economic issues? And just how much of tabloid news is just, well, made up?
Register to tell a friend about this lecture.
Comments
If you would like to comment about this lecture, please register here.