Healing powers of the mind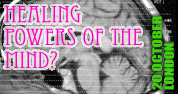 'Mind Medicine'-fact or fiction? Science or superstition?
Do some people have the power to heal others by psychic means? Would medicine benefit by being more aware of our 'spiritual' dimension? Where do psychic and spiritual approaches to medicine end and quackery begin? Does meditation offer real benefits – and if so, what are they?
Register to tell a friend about this lecture.
Comments
If you would like to comment about this lecture, please register here.