Goodbye to the freedom of the press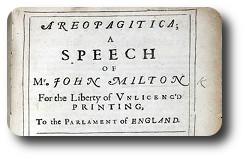 What is the state of press freedom today?
'I do not need to be told about the importance of freedom of speech,' was the response of the unelected Lord Justice Leveson to education secretary Michael Gove's defence of free speech. Was he right to dismiss Gove, or merely blind to the fact that a lesson on the importance of free speech was just what he did need?
Historically, John Milton, Karl Marx, George Orwell and many others wrote in a liberal tradition in which the value and importance of freedom of the press, and the need to constantly defend it, was assumed. Yet it seems that to most commentators today, the Leveson Inquiry represents the best of British justice rather than any threat to freedom of the press. To others, the repentant hacks, weeping celebs and censorious Murdoch haters have taken a major step in undermining this great freedom. Is there - as spiked editor Brendan O'Neill claims - a 'climate of creeping conformism' that is destroying what Milton defended as our 'freedom to know'? Or have muck-raking journalists been taught a valuable lesson in morality? What is the state of press freedom today?
Register to tell a friend about this lecture.
Comments
If you would like to comment about this lecture, please register here.