London Ghosts Conference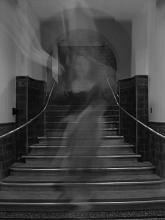 London ghosts, monsters and hauntings
London is a city with a ghost story on every street, from ancient spectres to haunted museums and theatres to contemporary ghosts in hospitals and tube stations.
The London Ghost Conferences is a day dedicated to talks covering many hauntings in the London. Our speakers include historians, parapsychologists, ghost hunters, occultists, Fortean researchers, folklorists, singers and artists each with their own idea on what London's ghosts are and what they mean.
From the Victorian demon Spring-heeled Jack to the Enfield Poltergeist and from the ghosts of Southwark to what haunts Senate House and much more. The London Ghosts Conference is the ideal Halloween event for anyone fascinated by the mysteries of ghosts and London.
Speakers include:
Robert Stephenson – Ghostly London In Your Mind and Under Your Feet
Mark Pilkington & Will Fowler - Vampires of London: A Cinematic Survey
Mike Dash - Spring-heeled Jack
Alan Murdie - The Enfield Poltergeist
Roger Luckhurst - The Priestess of Amen-Ra: The British Museum Mummy Curse
Sarah Sparkes - Ghosts of Senate House
Alan Brooke - Haunted London Underground
Paul Cowdell - 'The Grey Lady – and there IS a Grey Lady!': Ghosts in London's hospitals and theatres.John Fraser – Hunting London's Ghosts: A fringe 'touristic' pastime or a serious pursuit?
Mario Lautier Vella – Like Home (An Illustrated Artist's Talk)
John Constable - Haunted Southwark
London Dreamtime - Night Walks
Spring-heeled Jane - a short film by Mucky Puppets
Register to tell a friend about this lecture.
Comments
If you would like to comment about this lecture, please register here.