What the Ancient Sloth Left Behind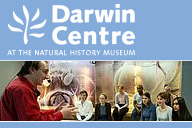 Discover how the giant sloth was can be brought back to life through what it left behind.
Animal faeces doesn't always go to waste. The giant land sloth was an amazing creature standing up to six metres high. Now extinct, scientists can work out a surprising amount of information about its life from its coprolites (fossilized dung). To coincide with the Museum's Poo exhibition at our sister museum in Tring, palaeontologist Andy Currant shows how even though the sloth was overtaken by evolution, what it left behind can bring it back to life.
Register to tell a friend about this lecture.
Comments
If you would like to comment about this lecture, please register here.