Mind - best friend or worst enemy?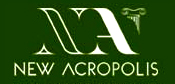 Our mind has a bigger impact on our life than we are usually aware of.
It not only colours our experiences of life but even causes them. If we don't take control of it it will take control of us. As the Buddha said: "An undisciplined mind does greater harm than all your enemies." This talk will explore how the mind works and will suggest ways of learning to master the mind and unfold its potential.
Register to tell a friend about this lecture.
Comments
If you would like to comment about this lecture, please register here.