'Poor Man's Heaven: the Land of Cokaygne and other utopian visions' with Omasius Gorgut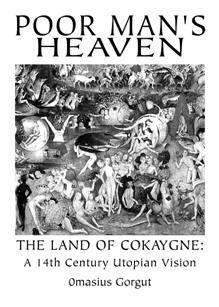 Discussion on the above book
"We'll eat all we please from ham and egg trees
that grow by a lake full of beer…
The landlord well take and tie to a stake
and we won't have to work like a slave...
In the face of a life defined by exploitation and suffering, the poor of the Middle Ages dreamed up a fantastical land where their sufferings were reversed; where people lived in idleness and plenty and the rich were barred.
In a popular song, The Land of Cokaygne, rivers ran with wine and milk, the houses were made of pasties and tarts, and animals ran around cooked and ready to eat.
From 14th-century Europe to 20th-century USA, this dream emerges in songs, poems, folk tales. But it wasn't just a popular fantasy – the dream was linked to the culture and tensions of the times, and time and again rebels and heretics tried to turn dream into reality…
Speaker(s):

Omasius Gorgut | talks


Date and Time:

19 June 2013 at 7:00 pm

Duration:


1 hour 30 minutes

Venue:


Housmans Bookshop
5 Caledonian Road
King's Cross
London
N1 9DX
020 7837 4473
http://www.housmans.com/

More at Housmans Bookshop...

Tickets:

Entry £3, redeemable against any purchase

Available from:

At the door on the night

Additional Information:

HOW TO FIND US:
We're very easy to find - just a two minute walk from King's Cross/St.Pancras terminals. Housmans is at the bottom end of Caledonian Road where it meets with Pentonville Road. If you have any problems finding us, give us a call!
Map showing our location: qr.net/housmansbookshop
Register to tell a friend about this lecture.
Comments
If you would like to comment about this lecture, please register here.