BOOK TALK - 'The Dublin Lock-out Centenary: Remembering Class Struggle in Ireland' with Daniel Finn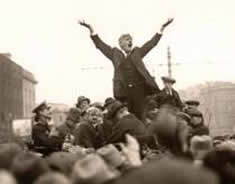 Remembering the 1913 Dublin lock-out, the single greatest confrontation between the forces of labour and capital in Irish history.
'In Dublin City in 1913
The boss was rich and the poor were slaves
The women working and the children hungry
Then on came Larkin like a mighty wave'
The Ballad Of James Larkin, by Donagh MacDonagh
Daniel Finn, Assistant Editor at New Left Review will be discussing the Dublin Lock-out of 1913, and examining broader issues about class struggles during the Irish revolutionary period. Events of the Irish revolution are often viewed through a nationalist prism, but during this period significant class struggles took place, of which the Lock-out is the most remembered.
The Dublin lock-out was the single greatest confrontation between the forces of labour and capital in Irish history, with 300 employers pitted against approximately 20,000 workers and their 80,000 dependants. It lasted from August 1913 to January 1914.
The workers in the dispute were led by the charismatic James Larkin, who sought to mobilise the city's poverty-stricken unskilled labour force in order to bring about improved pay and conditions. A consortium of Dublin businessmen forced all remaining employees to sign a pledge never to join or support a trade union. All employees who refused to sign were sacked or locked out, with strike-breakers brought in by employers where possible.
It was a dispute during which international solidarity and the tactic of the sympathetic strikes were central to the workers. Larkin succeeded in bringing socialist politics to a very significant percentage of the Dublin working class. The lock-out marked a watershed moment in Irish labour culture by firmly asserting worker solidarity.
Joining Danny will be Donnacha Delong who will discuss 'Misfit: A Revolutionary Life' the autobiography of Irish revolutionary Captain Jack White, which has recently been republished.
Jack White was one of the founders of the Irish Citizens Army, a small group of trained trade union volunteers established in Dublin for the defence of worker's demonstrations from the police. Other prominent members included James Connolly, Seán O'Casey, Constance Markievicz, and Francis Sheehy-Skeffington. In 1916, it took part in the Easter Rising – an armed insurrection aimed at ending British rule in Ireland.
White later went to Spain with the International Brigade and became an anarchist, working with the CNT and Emma Goldman.
Copies of 'Misfit: A Revolutionary Life' and other related books will be available on the evening.
Speaker(s):

Date and Time:

25 September 2013 at 7:00 pm

Duration:


1 hour 30 minutes

Venue:


Housmans Bookshop
5 Caledonian Road
King's Cross
London
N1 9DX
020 7837 4473
http://www.housmans.com/

More at Housmans Bookshop...

Tickets:

Entry £3, redeemable against any purchase

Available from:

At the door on the night

Additional Information:

HOW TO FIND US:
We're very easy to find - just a two minute walk from King's Cross/St.Pancras terminals. Housmans is at the bottom end of Caledonian Road where it meets with Pentonville Road. If you have any problems finding us, give us a call!
Map showing our location: qr.net/housmans
Register to tell a friend about this lecture.
Comments
If you would like to comment about this lecture, please register here.