The Power of Myth - 4-week course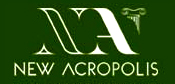 An introduction to the archetypal structure of mythology and its profound function for our psychological well-being.
Discover the timeless message of myths and how they can help us to live our lives with more meaning.
This is a 4-week course (4 evenings over a month).

Topics:
Myth, Symbols and Rituals:
As meaning of access to the sacred and as tools for understanding and facing the trials of life.
The Myth of Cupid and Psyche:
A key to understanding the mysteries of love and the soul.
The Oedipus Myth:
Can free will and predestination co-exist? What is the nature of the human being?
Fairy Tales and Modern Mythology:
Archetypal themes and their interpretation in fairy tales, literature and film.
Register to tell a friend about this lecture.
Comments
If you would like to comment about this lecture, please register here.