The Real EU Debate: Should We Stay or Should We Go?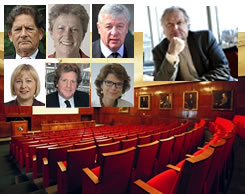 Landmark debate about Britain's membership of the EU. Six speakers incl Lord Lawson and Vicky Pryce. Chairman: Lord Digby Jones.
The debate about Britain's relationship with
the EU is currently characterised by wishful thinking and a lack of clarity.
Some EU-critics claim that it will be possible to substantially renegotiate the terms of our membership and to return many powers to Westminster - but do not explain how securing the agreement of 27 other EU countries to significant UK opt-outs can be achieved.
The pro-EU lobby, on the other hand, calls for reform in Brussels - but does not spell out what will be the likely implications of the eurozone crisis and proposed 'fiscal union' for a Britain that remains an EU member but outside the single currency.
There is a need for an honest exchange of ideas on the real choice that people will face in the growing likelihood that there is a referendum on Britain's membership of the EU.
Namely, the potential costs and benefits for the UK of either staying in the EU and engaging in full EU monetary and political union, or leaving and defining a new, looser relationship with the EU based on free trade and voluntary co-operation.
As the EU-neutral campaign for an EU referendum, the People's Pledge is ideally placed to facilitate this real debate. Working with EUouth (the campaign to engage youth with the EU) and the Democracy Movement (Britain's leading all-party anti-EU campaign) we have assembled an impressive panel of respected speakers:
For 'We Should Go':
Lord Lawson of Blaby (Conservative) - Chancellor of the Exchequer 1983-89
Gisela Stuart MP (Labour) - UK Parliament Representative, Convention on the Future of Europe
Graham Stringer MP (Labour) - former Parliamentary Secretary to the Cabinet Office & government whip, Co-Chairman of the Democracy Movement
For 'We Should Stay':
Mary Honeyball

MEP

- Labour spokesperson on the European Parliament's Women's Rights & Gender Equality Committee
John Stevens - founder of the Pro-Euro Conservative Party and former Conservative

MEP
Vicky Pryce - economist, former Joint Head of the Government Economic Service and Liberal Democrat
Debate chairman: Lord Digby Jones - former Director General of the CBI and former Minister of State for Trade and Investment
Date: Tuesday 3rd December 2013
Time: 7:00pm - drinks reception afterwards in the Marble Hall & Gallery
Venue: The Lecture Theatre, One Birdcage Walk, Westminster SW1H 9JJ

We very much hope you will be able to join us for this interesting debate and afterwards for a drinks reception to continue the discussion with the speakers and fellow attendees.
Speaker(s):

Lord (Nigel) Lawson - Conservative | talks
Gisela Stuart MP - Labour | talks
Graham Stringer MP - Labour | talks
Mary Honeyball MEP - Labour | talks
John Stevens - former MEP | talks
Vicky Pryce - Economist | talks


Date and Time:

3 December 2013 at 7:00 pm

Duration:


1 hour 30 minutes

Venue:


One Birdcage Walk
Institution of Mechanical Engineers
No1 Birdcage Walk
Westminster
SW1H 9JJ
020 7973 1248
http://www.onebirdcagewalk.com/page-find
Show map



Organised by:


Peoples Pledge
See other talks organised by Peoples Pledge...

Tickets:

Free

Available from:

Admission will be by free ticket only. If you would like to attend, or for more information, please contact Stuart Coster at stuart@peoplespledge.org or call 020 3427 5622.
Register to tell a friend about this lecture.
Comments
If you would like to comment about this lecture, please register here.