Book Launch by David Pilling- Bending Adversity: Japan and the Art of Survival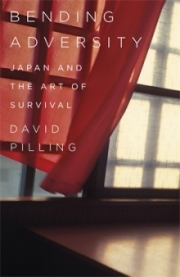 David Pilling, Asia Correspondent at the Financial Times, will talk about his newly released book Bending Adversity, a portrait of contemporary Japan.
Despite years of stagnation, Japan remains one of the world's largest economies and a country which exerts a remarkable cultural fascination. David Pilling's new book is an entertaining, deeply knowledgeable and surprising analysis of a group of islands which have shown great resilience, both in the face of financial distress and when confronted with the overwhelming disaster of the 2011 earthquake.
Throughout its history, Japan has weathered calamities from natural disasters such as the 2011 tsunami to crushing defeat in war and its more recent loss of economic vigour. The 2011 tsunami, which killed some 19,000 people, and subsequent nuclear catastrophe highlighted both the deeply impressive practical resilience of ordinary Japanese and a political culture of extraordinary carelessness and arrogance. Pilling describes the emergency and its aftermath, but then writes far more broadly about many aspects of Japan which are little known to outsiders and which do so much to explain these contradictory responses to the disaster.
Drawing on a wide range of contemporary Japanese voices and on the author's own experiences living in Japan as a foreign correspondent for six years, his book draws together many threads – economics, history, politics and contemporary reportage – in one highly readable volume. Its publication coincides with a surge of renewed interest in Japan, still the most important US ally in Asia, as its territorial disputes with China heat up dangerously, its government attempts a radical revival of the economy, and the Fukushima nuclear disaster rumbles on.
Bending Adversity is a superb work of reportage and an essential book even for those who already feel they know the country well.
Speaker(s):

Mr David Pilling | talks


Date and Time:

17 January 2014 at 6:00 pm

Duration:


1 hour

Venue:


Daiwa Anglo-Japanese Foundation
Daiwa Foundation Japan House
13/14 Cornwall Terrace (Outer Circle)
London
NW1 4QP
020 7486 4348
http://www.dajf.org.uk/

More at Daiwa Anglo-Japanese Foundation...

Tickets:

Free; Booking essential

Available from:

Additional Information:

http://www.dajf.org.uk/event/bending-adversity-japan-and-the-art-of-survival
Register to tell a friend about this lecture.
Comments
If you would like to comment about this lecture, please register here.