Genetic variation and human health

Looking at scientific, ethical and polical challenges facing pharmacogentics.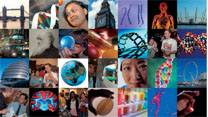 Everyone has a unique genetic makeup, differing from any non relative at millions of places in their genomes. A central challenge in biomedical research today is to identify which of these gene variants are relevant to disease risk and treatment response. At present, we are almost entirely ignorant of how this vast reservoir of genetic variation influences human health, but genetic and genomic technologies are developing rapidly, suggesting that our understanding of the genetic bases of common diseases and variable reactions to their treatment (pharmacogenetics) may grow rapidly in the coming years. Here we review some of the key elements of complex trait genetics and assess the prospects that it will deliver tangible improvements in healthcare in the near and medium terms. We also assess some of the ethical and political challenges that are likely to emerge, and we focus on how research efforts can be adjusted to meet some of these concerns. In particular, we discuss concerns that these approaches might benefit certain patient and ethnic groups more than others.
Speaker(s):

Professor David Goldstein | talks
Dr Michael Stumpf | talks
Professor Nick Wood | talks


Date and Time:

17 January 2005 at 9:30 am

Duration:


Full Day

Venue:


The Royal Society
6-9 Carlton House Terrace
London
SW1Y 5AG
+44 20 74 51 2500
http://www.royalsociety.org

More at The Royal Society...

Tickets:

FREE

Available from:

Admission is free but pre-registration is required. Visit the Society's website for registration information.
Register to tell a friend about this lecture.
Comments
If you would like to comment about this lecture, please register here.