Negative refraction, the perfect lens, and metamaterials

Metamaterials, new materials which refract light in an entirely novel manner.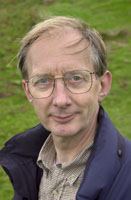 Our ability to control light is limited by the materials available to us. John Pendry will introduce a new class of designer materials which refract light in an entirely novel manner and whose properties are engineered by controlling their nanostructure rather than their chemical composition. The new materials, often referred to as metamaterials, open new vistas in optics and offer the possiblity of super-high resolution lenses that can resolve details finer than the wavelength of light. The concepts have applications across much of the electromagnetic spectrum and examples will be given ranging from magnetic resonance imaging where frquencies of 21MHz are employed, through the GHz frequencies used in mobile telephony, up to optical frequencies where the new materials are canidates for wiring all-optical chips.
Speaker(s):

Date and Time:

24 February 2005 at 6:00 pm

Duration:


1 hour

Venue:


The Royal Society
6-9 Carlton House Terrace
London
SW1Y 5AG
+44 20 74 51 2500
http://www.royalsociety.org

More at The Royal Society...

Tickets:

FREE

Available from:

This lecture is free to attend and open to all. Seats are allocated on a first-come, first-served basis.

Additional Information:

Some prior knowledge of the subject area may be necessary.
Register to tell a friend about this lecture.
Comments
If you would like to comment about this lecture, please register here.