Governing Insecurity in Japan: The Domestic Discourse and Policy Response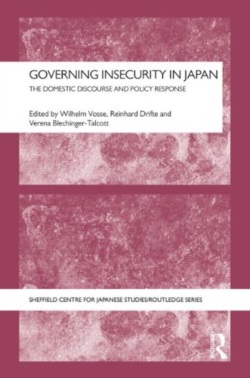 This book focuses on the domestic discourse on insecurity in Japan (including military security, labour migration, demographic change, Chinese investment).
Since the end of the Cold War, Japan's security environment has changed significantly. While, on the global level, the United States is still Japan's most important security partner, the nature of the partnership has changed as a result of shifting demands from the United States, new international challenges such as the North Korean nuclear programme and the rapid rise of China. At the same time, Japan has been confronted with new, 'non-traditional' security threats such as international terrorism, the spread of infectious diseases, and global environmental problems. On the domestic level, demographic change, labour migration, economic decline, workplace insecurity, and a weakening impact of policy initiatives challenge the sustainability of the lifestyle of many Japanese and have led to a heightened sense of insecurity among the Japanese public.
This book focuses on the domestic discourse on insecurity in Japan and goes beyond military security. Wilhelm Vosse and Paul Midford will discuss Japan's growing perception of domestic, regional and global insecurity, the domestic security discourse and the changing role of military forces, David Chiavacci will discuss problems of labour migration and demographic change, and Reinhard Drifte will examine the perceived risk of Chinese foreign investment.
Speaker(s):

Professor Reinhard Drifte | talks
Professor Wilhelm Vosse | talks
Professor Paul Midford | talks
Professor David Chiavacci | talks


Date and Time:

24 June 2014 at 6:00 pm

Duration:


1 hour

Venue:


Daiwa Anglo-Japanese Foundation
Daiwa Foundation Japan House
13/14 Cornwall Terrace (Outer Circle)
London
NW1 4QP
020 7486 4348
http://www.dajf.org.uk/

More at Daiwa Anglo-Japanese Foundation...

Tickets:

Free; Booking essential

Available from:

http://www.dajf.org.uk/events/booking-form
Register to tell a friend about this lecture.
Comments
If you would like to comment about this lecture, please register here.