London Week, Day 3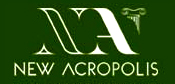 Discover the sacred geography of London, its mythical and historic stories, fascinating statistics, famous personalities and the most important events that have shaped the city.
An evening with a series of short talks on one of the many fascinating facets of London, with refreshments in the break included in the price.
Presentations:
- London's Sacred Architecture
- London and its markets
- TBC
- How London grew – transformations of the city
- The London Stone
Register to tell a friend about this lecture.
Comments
If you would like to comment about this lecture, please register here.