Heroes within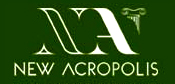 Discover the archetypes that guide our journey through life
This talk presents the idea that our lives are like a hero's journey. At different stages in our life, we have to develop different qualities that are linked to the universal archetypes found in myths and stories around the world, e.g. the inner warrior, the lover, the ruler, etc.
Understanding these inner archetypes helps us to avoid problems with their shadow manifestations and to become who we truly are.
The speaker, Sabine Leitner, has MAs in music and philosophy and is currently studying for an MA in Psychosynthesis psychology.
Register to tell a friend about this lecture.
Comments
If you would like to comment about this lecture, please register here.