Science of Art, the Art of Science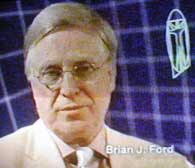 How has science affected art? Can computers become artists? If there is 'articifial intelligence' there might be computer art . . .
This debate between NESTA Fellow Brian J Ford and Hull Professor Geraint Wiggins will cover the influence computers have had - and will have - on the arts. Part of the Hull Time Based Arts programme, this evening will be wide-ranging and in it, Brian will advance some revolutionary theories about the brain and about art as well.
Speaker(s):

Date and Time:

15 December 2004 at 8:00 pm

Duration:


2 hours

Venue:


Gulbenkian Centre
Hull University
Cottingham Road
HULL
HU6 7RX
01482 307085
http://www.timebase.org
Show map



Organised by:


Tickets:

Free

Available from:
Register to tell a friend about this lecture.
Comments
If you would like to comment about this lecture, please register here.