World Philosophy Day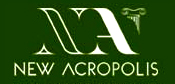 The Wisdom of the World in Stories and Myths
We usually think of philosophy being expressed through essays and treatises, but if we see philosophy as a search for wisdom and truth, then we will find such wisdom equally well expressed in stories and myths. Plato used myth to transmit transcendent truths, while Sufi mystics and Zen masters used humorous tales to awaken a different way of looking at the world. Before the word 'philosophy' was even invented, the philosophical attitude existed and was transmitted through fantastic stories and mythical symbols.
This evening, which celebrates UNESCO's 'World Philosophy Day', will celebrate an alternative and very effective way through which philosophy has been popularized throughout the ages. Come along for an evening of entertainment, deep thinking, good food and conversation.
Register to tell a friend about this lecture.
Comments
If you would like to comment about this lecture, please register here.