Faith, Christianity and your well-being: a lecture on Christian Science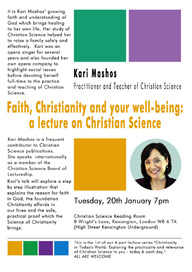 This is the first in the 2015 Lecture Series exploring the practicality and relevance of Christian Science to you today
It is Kari Mashos' growing faith and understanding of God which brings healing to her own life. Her study of Christian Science helped her to raise a family safely and effectively. Kari was an opera singer for several years and also founded her own opera company to highlight social issues before devoting herself full-time to the practice and teaching of Christian Science healing.
Kari's talk will explore a step by step illustration that explains:
• The reason for faith in God,
• The foundation Christianity affords in healing,
• The safe, practical proof which the Science of Christianity brings.
Kari is a frequent contributor to Christian Science publications. She speaks internationally as a member of the Christian Science Board of Lectureship.
Register to tell a friend about this lecture.
Comments
If you would like to comment about this lecture, please register here.