The Intelligent Microbe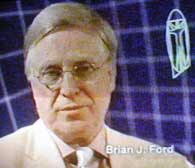 How do animals exhibit emotions? Are there resonances in the single cells of which life is composed? We will see single cells show dingns of ingenuity
Can animals show emotions? To what extent to higher plants exhibit senses?
And how far can we regard single-celled organisms as ingenious? This
wide-ranging illustrated talk reveals the diversity of senses and response
in the living world. The conclusion reveals a remarkable new view of the
neuron.
Speaker(s):

Date and Time:

9 June 2005 at 6:00 pm

Duration:


1 hour

Venue:


Linnean Society
Burlington House
Piccadilly
London
W1V 0LQ


Show map



Organised by:


Tickets:

n/a

Available from:
Register to tell a friend about this lecture.
Comments
If you would like to comment about this lecture, please register here.