Get inspired - discover philosophy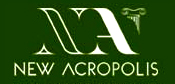 Free introduction into what philosophy is and into some universal philosophical ideas and how they can be used for our everyday life.
The course will look at questions like: How can we face the problems of life but not be overcome by them? How can we transform individual action into collective power? How can we learn from history to see the bigger picture?
To answer these questions we will study some of the great philosophical ideas that have stood the test of time. A systematic and comparative study of this vast heritage can lead us to discover a universal and timeless wisdom that has enabled men and women of all times to find themselves and contribute to making the world a better place.
Outline of course: Major concepts of the philosophies of India, Tibet, Buddhism, Egypt, China (Confucius), Greece and Rome (Plato, Plotinus, the Stoics), the Hermetic Tradition, Principles of Ethics, Sociopolitics and Philosophy of History.
This is a 16-week course which is held on Monday evenings from 7.00 - 9.30 pm, with a break in the middle for tea, food and conversation.
Price for the whole course £140 (£105 concessions)
Register to tell a friend about this lecture.
Comments
If you would like to comment about this lecture, please register here.