Filmed Public Lecture: C.L.R. James and opposition to WWII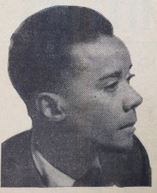 A fascinating talk on C.L.R. James' opposition to WWII with James Heartfield, author, Unpatriotic History of the Second World War.
In a 1940 pamphlet entitled My Friends: A Fireside Chat on the War, C.L.R. James rejected entry into the Second World War and parodied Franklin Roosevelt's fireside chats "My friends, why does the President want us to fight?.....Tell me, Mr. President, what democracy do I defend by going to fight Hitler? Hitler is a vile criminal and should be driven off the face of the earth. But I have no democracy and the democracy I haven't got Hitler didn't take from me. I know all those who have been taking away democracy from me and my people……..all of them aided by you, President Roosevelt…..."
To discuss this rare and principled opposition by C.L.R. James and other writers, the education charity WORLDwrite and its Citizen TV station WORLDbytes are delighted to be hosting this filmed public lecture on Wednesday 8th April at 7.00pm at the exciting new venue HATCH, Homerton, a 1 minute walk from Homerton station. The lecture forms part of the charity's multi-media project on C.L.R. James entitled,'Every Cook Can Govern: Documenting the life, impact & works of C.L.R. James' which will culminate in a feature length documentary towards the end of this year.
Project volunteers have also been working hard to bring together a whole knowledge portal on C.L.R. James to accompany filmed works for the project and while it is a work in progress are delighted to be launching it on the night.
Please arrive in time for drinks and complimentary snacks. The entrance fee will help towards venue and film costs for this exciting event.
Tickets cost £7/£4 for this event and as spaces are limited, it is wise to book as soon as possible.
Tickets can be booked online via https://clr-lecture.eventbrite.com
For more details about the project get in touch via email world.write@btconnect.com or phone 020 8985 5435
Websites: www.worldbytes.org www.clrjames.uk
Speaker(s):

Date and Time:

8 April 2015 at 7:00 pm

Duration:


2 hours

Venue:


Hatch
Unit G2,8 Mackintosh Lane, Homerton,
201
London
E9 6AB
020 8985 5435
http://https://clr-lecture.eventbrite.com
Show map



Organised by:


Tickets:

£7/£4 per person

Available from:

Please book your place on-line, via https://clr-lecture.eventbrite.com

Additional Information:

For more information on this series, please visit Websites: www.worldbytes.org www.clrjames.uk
Register to tell a friend about this lecture.
Comments
If you would like to comment about this lecture, please register here.