'In the Name of the People: Angola's Forgotten Massacre' with Lara Pawson, John Game, Joana Ramiro,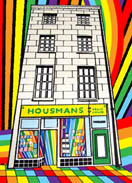 Our panel discuss Angola's intra-left massacre of 27 May 1977, and its continuing political repercussions, a subject explored expertly in Pawson's highly celebrated recent book.
Chair, Joana Ramiro: Morning Star reporter, who – as a Portuguese citizen with an Angolan father – has travelled widely in Angola.
John Game: a Socialist and independent scholar interested in class and identity in the global south with particular reference to western India. He is hoping to submit his thesis soon.
Gika Tetembwa: a global politics student at Birkbeck College and activist, who was born in, and grew up in Angola.
Lara Pawson: author of 'In the Name of the People: Angola's Forgotten Massacre'
'In the Name of the People: Angola's Forgotten Massacre' tells a fascinating story about one of the most important political moments in Angola's contemporary history, the 27 May 1977. For some, that was the day the ruling MPLA party turned on dissidents and launched a drawn-out massacre, with the help of the Cuban army, that would claim thousands of lives; for others, it was the day a band of far left, anti-mestiço and anti-white racists violently tried to conduct a coup against Agostinho Neto's government. Lara Pawson lived and worked in Angola as the BBC correspondent from 1998-2000, when she learned about the uprising and its consequences.
This book follows her investigation to dig up the truth of what really happened on the 27 May, to try to understand why certain British Marxists helped cover up the killings, and how the events of 1977 continue to influence politics in Angola to this day.
'In the Name of the People: Angola's Forgotten Massacre' has been shortlisted for the Political Book Awards Debut Political Book of the Year 2015, was runner-up in the Royal Africa Society book of the year 2014, was shortlisted for the Bread and Roses Award for Radical Publishing 2015 and has been shortlisted for the Orwell Prize 2015.
'With unflagging intelligence, fearlessness, and compassion, Pawson unfolds the human and political dimensions of this forgotten atrocity. She has done Angola a great service in writing this book, and all of us, Angolan or otherwise, do ourselves a great service in reading it.' Teju Cole, author of Open City
'Pawson brings her sources to life like a novelist; her meetings are vivid and convincing. A simple, direct clarity of vision is brought to bear, and the reader begins to make some sense of the conspiracies and sub-conspiracies that led to the vinte-sete. By the end, Angola – along with some of its layered political complexity – is raw, vital, brutal and alive in front of us.' M. John Harrison, author of Climbers
Housmans will have copies of the book available at a specially discounted price of £15 (usual price £20).
Speaker(s):

Joana Ramiro | talks
John Game | talks
Gika Tetembwa | talks
Lara Pawson | talks | www


Date and Time:

27 May 2015 at 7:00 pm

Duration:


1 hour 30 minutes

Venue:


Housmans Bookshop
5 Caledonian Road
King's Cross
London
N1 9DX
020 7837 4473
http://www.housmans.com/

More at Housmans Bookshop...

Tickets:

£3.00

Available from:

Additional Information:

To arrange an interview with our guest, or for more information regarding this, and other events at Housmans please contact Nik Gorecki on 020 7837 4473 or alternatively by email: nik@housmans.com
Register to tell a friend about this lecture.
Comments
If you would like to comment about this lecture, please register here.