'A Diet of Austerity: Class, Food and Climate Change' with Elaine Graham-Leigh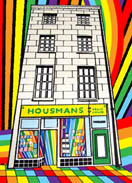 Elaine Graham-Leigh explores how and why the working class are being blamed for climate change, and what we can do about it.
Received wisdom is increasingly that we all have to eat less to save the planet, but received wisdom is wrong. 'A Diet of Austerity' (Zero Books, 2015) argues that, just as the poor are blamed for the economic crisis, Malthusian conceptions about food and ecology are being used to hold the working class responsible for climate change and global hunger. Challenging existing dogmas about overconsumption and personal responsibility, it shows that what we need to stop climate change is system change.
"Elaine has a produced a must-read book for all of us concerned with combating climate change. We can't diet our way to a better world but we can and must change the system to sustain the future. This book is well written, fascinating, controversial and essential." Derek Wall, Former Green Party of England and Wales Principal Speaker and author of The Rise of the Green Left
Elaine Graham-Leigh is a member of Counterfire and a former member of the steering committee of the Campaign against Climate Change. She has been speaking on climate change for more than a decade, at events ranging from small public meetings to national demonstrations. She has written widely on this and other political issues, particularly for www.counterfire.org, and has articles republished by New Internationalist and in the Handbook of the Climate Movement.
Register to tell a friend about this lecture.
Comments
If you would like to comment about this lecture, please register here.