'Considering Gramsci' with Andrew Pearmain and Derek Boothman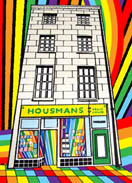 As an extenstion of the Gramsci Conference taking place at Kings College on 18th/19th June, we welcome Andrew Pearmain to discuss his latest book 'Gramsci in Love' (Top Hat Books, 2015) and Derek Boothman, editor and translator of 'A Great and Terrible World: The Pre-Prison Letters (1908-1926) of Antonio Gramsci' (Lawrence & Wishart, 2014)
'Gramsci in Love' is a fictional account of the love life of the famous Italian communist leader Antonio Gramsci (1891-1937), focusing on his curious relationships with the three Schucht sisters, Evgenia, Tatiana and his wife Julia. It is set against the background of the Soviet Revolution and the Fascist takeover in Italy.
'A Great and Terrible World: The Pre-Prison Letters (1908-1926) of Antonio Gramsci' compiles letters by Antonio Gramsci which vividly evoke the 'great and terrible world' in which he lived, a description he used a number of times in his correspondences. The letters show Gramsci beginning to form the theoretical concepts that come to fuller fruition in the Prison Notebooks, but they also give an essential and rounded picture of Gramsci's development, politically, intellectually and emotionally – the latter especially through letters to his family and wife.
'This collection of Gramsci's early correspondence provides new insight into his life and work. Through these letters, we follow the development of Gramsci's own thought and his involvement with the international communist movement. This book will prove an indispensable resource, not only to Gramsci scholars, but to anyone interested in the history of the left more widely.' Mark Fisher
Register to tell a friend about this lecture.
Comments
If you would like to comment about this lecture, please register here.