Discover Philosophy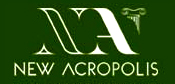 Free introduction into what philosophy is and into some universal philosophical ideas and how they can be used for our everyday life.
Everything we do is informed by the way we think. But what is the value of thinking without action? Action is the real measure of what we are.
For thousands of years, philosophy has taught both how to think and how to live. Much more than just an intellectual pursuit, philosophy has traditionally been a way of life, a conscious putting into practice of ideas in order to produce a profound transformation.
It is often said that by changing ourselves, we can change the world. This is certainly true, but is individual change alone sufficient? There is also a need to change the cultural values, attitudes, systems and structures in our societies and this can only happen if we work together, with a shared vision and above all with great wisdom.
Building a new and better society is probably the most difficult challenge of our times. It cannot be done without a deep understanding of human nature, history, of different cultures and without re-discovering the interconnectedness of everything and the sacred dimension of life.
Get inspired and train yourself as a practical philosopher in order to become part of the solution. Our 16-week course offers a form of holistic education for head, heart and hands. The course will introduce the major systems of thought of Eastern and Western Philosophy and will give you the opportunity to join a small volunteering project of your choice to confirm that everyone can contribute something.
COURSE ONTENT
Understanding yourself
- Introduction to Ethics Major concepts of the philosophies of India, Tibet, Ancient Egypt and Neoplatonism
Living together in harmony with others Introduction to Sociopolitics
- Major concepts of the philosophies of Confucius, Plato and the Stoics
Being part of something greater
- Introduction to Philosophy of History
- Microcosm and Macrocosm
- The cosmovision of traditional societies
Actions speak louder than words
Exercises for personal development
Volunteering project
This course is held on Wednesdays evenings from 7.00 - 9.30 pm, with a break in the middle for food and conversation.
First evening free. Price for the whole course £140 (£105 concessions), handouts included.
Register to tell a friend about this lecture.
Comments
If you would like to comment about this lecture, please register here.