Images of Enlightenment - a visual introduction to the mysticism of Tibet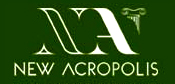 As we enter the realm of spiritual realization, we discover that inner experiences cannot be really mediated by concepts, words or thoughts, but can be evoked with the help of symbols.
The mystical tradition of Tibet is replete with compelling and richly coloured imagery. This visual presentation aims to introduce some of the key concepts and associated symbols which form part of the Tantric path of transformation. This is a path whose sole aim is to rid the mind of old habits, fears and narrow views and to bring us closer to the realization of our inner potentials and Buddha nature.
Register to tell a friend about this lecture.
Comments
If you would like to comment about this lecture, please register here.