'The Far Right In Europe' with Fred Leplat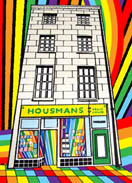 A discussion of recent gains made by the European far right, who have been capitalising on recent financial and migration crises.
Nearly 70 years after the fall of the Nazi regime, the far right and even fascism are again a significant threat in Europe. In the May 2014 European Parliament elections, organisations with a range of fascist, racist and anti-migrant ideologies won significant votes in a number of European countries, including the National Front topping the poll in France and explicitly Nazi parties winning seats in countries like Germany and Greece. The global economic crisis of 2007 has given renewed energy and confidence to racists and fascists, while the left has generally been unable to give hope to the millions affected by the crisis.
This book is survey of the far right in seven countries of Europe with different political histories: Britain, Bulgaria, Denmark, France, Hungary, Italy, Netherlands and Sweden. The survey, by activists and researchers from those countries, reveals a disturbing picture of far-right parties, some with a mass base, which have been able to drag the mainstream political parties to the right. This book is intended to be a contribution to understanding the nature of these far-right parties and of the threat we face.
Speaker(s):

Mr Bernard Schmid | talks


Date and Time:

18 November 2015 at 7:00 pm

Duration:


1 hour 30 minutes

Venue:


Housmans Bookshop
5 Caledonian Road
King's Cross
London
N1 9DX
020 7837 4473
http://www.housmans.com/

More at Housmans Bookshop...

Tickets:

Entry £3, redeemable against any purchase

Available from:
Register to tell a friend about this lecture.
Comments
If you would like to comment about this lecture, please register here.