Bare Reality: 100 Women, Their Breasts, Their Stories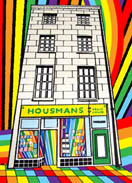 Launch of Dodsworth's photobook, 'Bare Reality', which shares 100 unretouched, anonymous pictures of real women's breasts and demonstrates how differently we think about our bodies.
"Compelling words, compelling pictures, compelling women... the ordinary beauty of life." --Susie Orbach, Psychoanalyst, writer, author of Fat is a Feminist Issue
"'Bare Reality' is a beautiful, important and tender project. I love how you learn each woman's story through her breasts her development, her response to the culture around her, illness, her sexuality, her children. I feel warm and full of tenderness for myself as a woman, and for the female experience. It's going to be a very special book." --Lucy-Anne Holmes writer and founder of the No More Page 3 campaign
"Breast Cancer UK is delighted to support Bare Reality's Kickstarter campaign. This touching, inspirational book cuts through the sexual objectification of breasts and encapsulates how unique, yet similar, we all are. Each story provides a beautifully tender insight into the diversity of our emotions about our breasts throughout life's stages and experiences.
We hope this work will become a powerful force for social change by encouraging more women to speak freely about their breasts and inspiring them to find out more about breast cancer and the wide range of risk factors associated with the disease.
We gratefully accept the author's kind offer of a donation from the sale of each book, which will help us to continue our work to prevent breast cancer before it starts by reducing our routine exposure to the harmful chemicals in our every day products, food and environment." --Breast Cancer UK
About the Author
Laura Dodsworth's Kickstarter campaign to finance Bare Reality achieved its funding target within one day and the video accompanying the project was viewed 1.5 million times. The project attracted worldwide media coverage, including The Guardian and Huffington Post. Laura is an award-winning photographer.
Speaker(s):

Laura Dodsworth | talks


Date and Time:

11 December 2015 at 7:00 pm

Duration:


1 hour 30 minutes

Venue:


Housmans Bookshop
5 Caledonian Road
King's Cross
London
N1 9DX
020 7837 4473
http://www.housmans.com/

More at Housmans Bookshop...

Tickets:

Entry £3, redeemable against any purchase

Available from:
Register to tell a friend about this lecture.
Comments
If you would like to comment about this lecture, please register here.