Astrology, Karma & Reincarnation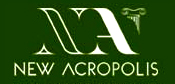 The idea of reincarnation and an afterlife is something which has permeated the human psyche since time immemorial.
The idea that one reincarnates to meet his/her destiny or fate based on one`s actions from a previous life has influenced and inspired the greatest minds of the past and present.
In this talk practicing astrologer Israel Ajose will be demonstrating how astrology can give us clues, ideas and a guide of how to understand our karma in this present life, and how best we can navigate with it to enrich and fulfil our lives.
Register to tell a friend about this lecture.
Comments
If you would like to comment about this lecture, please register here.