'The Hammer Blow – how 10 women disarmed a warplane' with Andrea Needham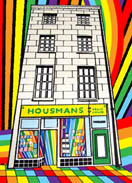 Peace campaigner Andrea Needham discusses her book detailing her involvement alongside another nine women in the daring disarmament of a Hawk warplane bound for Indonesia.
Housmans are very proud to welcome Andrea Needham, who alongside Jo Blackman and Lotta Kronlid, broke into a British Aerospace factory in Lancashire on the 29 January 1996 and used household hammers to disarm a Hawk warplane bound for Indonesia.
They were arrested, charged with £2.4m of criminal damage, and sent to prison to await trial. A week later, Angie Zelter joined them, accused of conspiracy. After six months in prison, all four were acquitted by a Liverpool jury in a court case that effectively put Britain's arms trade on trial.
The disarmament could not have happened without the support of the other six members of the Seeds of Hope Ploughshares group – Lyn Bliss, Clare Fearnley, Emily Johns, Jen Parker, Ricarda Steinbrecher and Rowan Tilly – who were absolutely integral to the whole action from the very start.
Andrea Needham's new book, 'The Hammer Blow – how 10 women disarmed a warplane', will be published by Housmans' sister-publication Peace News on the 29th January, the 20th anniversary of the action.
Speaker(s):

Andrea Needham | talks


Date and Time:

10 February 2016 at 7:00 pm

Duration:


1 hour 30 minutes

Venue:


Housmans Bookshop
5 Caledonian Road
King's Cross
London
N1 9DX
020 7837 4473
http://www.housmans.com/

More at Housmans Bookshop...

Tickets:

Entry £3, redeemable against any purchase

Available from:
Register to tell a friend about this lecture.
Comments
If you would like to comment about this lecture, please register here.