'Bad News: Last Journalists in a Dictatorship'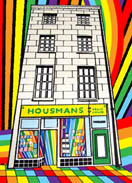 Award-winning journalist Anjan Sundaram presents a powerful account of the recent tragic history of Rwanda, and the continuing battle for free speech.
Hearing a blast, journalist Anjan Sundaram headed uphill towards the sound. Grenade explosions are not entirely unusual in the city of Kigali; dissidents throw them in public areas to try and destabilise the government and, since moving to Rwanda, he had observed an increasing number of them.
What was unusual about this one, however, was that when Sundaram arrived, it was as though nothing had happened. Traffic circulated as normal, there was no debris on the streets and the policeman on duty denied any event whatsoever. This was evidence of a clean-up, a cloaking of the discontent in Rwanda and a desire to silence the media in a country most of whose citizens were without internet. This was the first of many ominous events.
Bad News is the extraordinary account of the battle for free speech in modern-day Rwanda. Following not only those journalists who stayed, despite fearing torture or even death from a ruthless government, but also those reporting from exile, it is the story of papers being shut down, of lies told to please foreign delegates, of the unshakeable loyalty that can be bred by terror, of history being retold, of constant surveillance, of corrupted elections and of great courage.
Speaker(s):

Anjan Sundaram | talks


Date and Time:

23 March 2016 at 7:00 pm

Duration:


1 hour 30 minutes

Venue:


Housmans Bookshop
5 Caledonian Road
King's Cross
London
N1 9DX
020 7837 4473
http://www.housmans.com/

More at Housmans Bookshop...

Tickets:

Entry £3, redeemable against any purchase

Available from:
Register to tell a friend about this lecture.
Comments
If you would like to comment about this lecture, please register here.