'Royal Babylon : The Case Against the Monarchy' with Heathcote Williams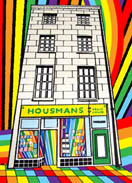 Housmans commiserates another royal anniversary with Heathcote Williams reading from his long-form prose-poem 'Royal Babylon'.
Royal Babylon lays out in verse what Williams calls 'the criminal record of the British Monarchy.' It is a short but powerful book, detailing the ways in which the Queen and her family have made headlines over the years by activities and connections which, time and again, have shown poor judgment, demeaning behaviour, or a lack of compassion.
From animal killing to sexual scandal, profligacy to remoteness from her subjects, the accusations pile up in a 500-verse tirade which has all Williams' hallmarks of passion, satire and irony.
'Having read 'Royal Babylon', a phenomenal piece of writing by Heathcote Williams, on the website of the International Times, I am reminded that we have every reason to loathe the monarchy and yet have become inured to its existence.' – Jeremy Hardy
Heathcote Williams is an English poet, actor and dramatist. He has written a number of book-length polemical poems including Autogeddon, Falling for a Dolphin and Whale Nation, which in 1988 became, according to Philip Hoare "the most powerful argument for the newly instigated worldwide ban on whaling."
Williams invented his idiosyncratic 'documentary/investigative poetry' style which he continues to put to good purpose bringing a diverse range of environmental and political matters to public attention. In June 2015, he published a book-length investigative poem about the 'Muslim Gandhi', Khan Abdul Ghaffar Khan, 'Badshah Khan'.
Speaker(s):

Heathcote Williams | talks


Date and Time:

21 April 2016 at 7:00 pm

Duration:


1 hour

Venue:


Housmans Bookshop
5 Caledonian Road
King's Cross
London
N1 9DX
020 7837 4473
http://www.housmans.com/

More at Housmans Bookshop...

Tickets:

Entry £3, redeemable against any purchase

Available from:
Register to tell a friend about this lecture.
Comments
If you would like to comment about this lecture, please register here.