'Gender' with Harriet Bradley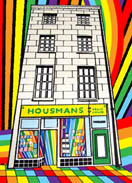 The second in a series of events at Housmans called Key Concepts, aimed at introducing core concepts in the social sciences. Harriet Bradley will be exploring the increasingly complex notion of gender.
Gender issues continue to be a prominent concern of academics and policy-makers, and increasingly arise in various forms to be debated in the public sphere and popular media. But what exactly do we mean by gender? How can we best understand gender differences? How are current gender relations changing? What new paths are 'femininity' and 'masculinity' taking? What would it be like to live in a society in which differences of gender were transcended?
In this new edition of her popular and highly lauded book, Harriet Bradley provides an introduction to the concept of gender and the different theoretical approaches which have developed within gender studies. Utilizing life narratives, she investigates processes of gendering in three important spheres of contemporary social life: production, reproduction and consumption.
The book highlights the centrality of gender in everyday life and shows how thinking about gender is influenced by changing political contexts. As well as updating the discussion with the latest scholarship, political concerns and economic data, the new edition pays closer attention to intersectionality and hybrid identities, as well as exploring the complexities of contemporary relations of masculinity and femininity in the light of new feminist activities.
This lively and accessible book will be of interest to students across the social sciences, as well as anyone interested in contemporary relations between women and men.
Winner of Choice's outstanding academic title award:
"Bradley provides us with a fresh and very lucid account by drawing upon her own personal experiences, examining gender through the lenses of production, reproduction and consumption."-Equality, Diversity and Inclusion
"Bradley's clear and straightforward writing style, the inclusion of personal experiences and research findings allows the reader to reflect on the issues and ideas raised within this text without becoming entangled in complicated explanations of key concepts around gender ... Bradley's book provides both teachers and researchers with an excellent introduction to issues and debates around gender and provides an ideal base from which to begin to explore these issues further in the education field."-Gender and Education
"Bradley's discussions are theoretically rich, yet easy to follow for those less familiar with gender studies, as key concepts are italicized, clearly defined, and thoroughly discussed. The combination of empirical research and personal narratives throughout the book superbly illustrates both how gender is conceptually understood and how it is lived and experienced in the everyday world ... a rich, intelligible sociological introduction to gender."-Canadian Journal of Sociology
"This book is an introductory text and fulfils this purpose admirably. Bradley's writing is clear, cogent and engaging."-Political Studies Review
Harriet Bradley is emeritus professor of sociology at the University of Bristol.
Speaker(s):

Harriet Bradley | talks


Date and Time:

27 April 2016 at 7:00 pm

Duration:


1 hour

Venue:


Housmans Bookshop
5 Caledonian Road
King's Cross
London
N1 9DX
020 7837 4473
http://www.housmans.com/

More at Housmans Bookshop...

Tickets:

Entry £3, redeemable against any purchase

Available from:
Register to tell a friend about this lecture.
Comments
If you would like to comment about this lecture, please register here.