'Fat Activism: a radical social movement' with Charlotte Cooper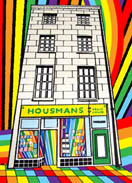 Discussing what is Fat Activism and why is it important, Charlotte Cooper lifts the lid on a previously unexplored social movement.
Fat Activism: A Radical Social Movement is a rare insider's view of fat people speaking about their lives and politics on their own terms. The book is the result of Charlotte's community-based doctoral research and is part of a new wave of accessible, accountable and rigorous work emerging through Research Justice and the Para-Academy.
Dr Charlotte Cooper is a London-based psychotherapist, researcher and cultural worker. She is an outspoken advocate for gay rights and fat acceptance. Cooper is both an academic and mainstream author. She has written many articles on fat acceptance and gay rights issues for websites, magazines and newspapers, including Diva, the U.K.'s leading lesbian magazine and UK national newspaper The Guardian.
She is a prolific author of zines and performs in the queercore band 'Homosexual Death Drive' in 2014 she became a dancer with Project O's SWAGGA. She blogs at obesitytimebomb.blogspot.com.
For more information visit: www.charlottecooper.net
Register to tell a friend about this lecture.
Comments
If you would like to comment about this lecture, please register here.