'Lean Out' with Dawn Foster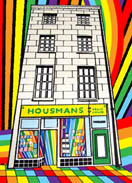 Dawn Foster discusses her antidote to Sheryl Sandberg's individualistic "Lean In", a book which neatly placed the onus on women to carry the responsibility for their position in contemporary life. Lean Out shows clearly how this approach offers nothing for the majority of women in society.
Social affairs journalist Dawn Foster's new book Lean Out is a mere 81 pages long, but it packs a powerful punch. Inspired by Facebook Chief Operating Officer Sheryl Sandberg's likeable bestseller Lean In, it's much more than just a riposte to the popular business manifesto for women. Fascinating, thought-provoking and at times outrage-inducing, Lean Out elucidates the many ways in which women are being subjugated by corporations and the government, and encourages us to take direct action to address these inequalities.
Sheryl Sandberg's business advice book, Lean In, was heralded as a defining moment in attitudes to women in business. But for all its commercial success, it proposed a model of feminism that was individualistic and unthreatening to capital.
In her powerful debut work Lean Out, acclaimed journalist Dawn Foster unpicks how the purportedly feminist message of Sandberg's book neatly exempts patriarchy, capitalism and business from any responsibility for changing the position of women in contemporary culture. It looks at the rise of a corporate '1% feminism', and at how feminism has been defanged and depoliticised at a time when women have borne the brunt of the financial crash and the gap between rich and poor is widening faster than ever.
Surveying business, media, culture and politics, Foster asks whether this 'trickledown' feminism offers any material gain for women collectively, or acts as mere window-dressing PR for the corporations who caused the financial crash. She concludes that 'leaning out' of the corporate model is a more effective way of securing change than leaning in.
Dawn Foster is a writer on politics, social affairs and economics for The Guardian, London Review of Books, Independent and Times Literary Supplement, and is a regular political commentator for Sky News, Channel 4 News, and BBC Newsnight. She won the IBP Young Journalist of the Year award in 2014, and currently lives in London.
Register to tell a friend about this lecture.
Comments
If you would like to comment about this lecture, please register here.