'George Orwell Now!' presented by the Orwell Society and Richard Blair (Orwell's son)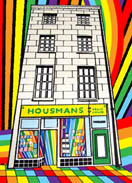 Richard Blair, son of George Orwell, will be discussing this latest book of essays about his father's enduring writing.
George Orwell remains an iconic figure today - even though he died in 1950. His dystopian novel Nineteen Eighty-Four depicts a Big Brother society in which the state intrudes into the most intimate details of people's lives - and, not surprisingly, it became a constant reference point after Edward Snowden's revelations.
The word 'Orwellian' is constantly in the media - used either as a pejorative adjective to evoke totalitarian terror or as a complimentary adjective to mean 'displaying outspoken intellectual honesty'. Interest in Orwell's life and writings - globally - continues unabated. Beginning with a Preface by Richard Blair, Orwell's son, George Orwell Now! brings together thirteen chapters by leading international scholars in four thematic sections.
Richard Blair is a patron of the Orwell Society and Eric Arthur Blair's son. Eric Arthur Blair is the real name of the writer George Orwell.
The Orwell Society is dedicated to the understanding and appreciation of the life and work of George Orwell, one of the greatest writers of the twentieth century. This is the pre-eminent society devoted to Orwell.
Register to tell a friend about this lecture.
Comments
If you would like to comment about this lecture, please register here.