'Life is War: Surviving Dictatorship in Communist Albania' with Shannon Woodcock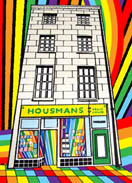 Dr Woodcock will discuss ethnic and racial persecution within the uniquely isolated and oppressive Albanian communist state between 1944 and 1991.
Life is War is a collection of oral histories that guides readers through the decades (1944-1992) in which everything was controlled by the Communist Party; what work one could do, what food was available, and even who one could marry.
The reader accompanies Shannon, the author and historian, through intimate interviews with six Albanian men and women. We hear how everyday people survived shocking living conditions, political persecution and oppression dependent on ethnicity, political status, gender and sexuality.
This is a thorough and vivid history of lived communism in Albania, charting political and ideological shifts through the experiences of those who survived. Life is War stands as remarkable and profound testimony to the resilience of humanity in the face of unrelenting political terror.
An accurate and precise historical work, engagingly rendered from life narratives, it plunges the reader into the difficult emotional truths that are at the core of remembering Albania's communist past.
Life is War is a valuable contribution to studies of everyday life under communism and dictatorship. Eloquently written and expertly researched, it will appeal to readers interested in life histories, war, communism, European history and trauma studies.
Dr Shannon Woodcock is a genocide scholar who has held the Pearl Resnick Post-Doctoral Fellowship at the United States Holocaust Memorial Museum and published widely in the field of the Holocaust of Romani people in Romania. She is currently a research associate in the Faculty of Creative Industries at Queensland University of Technology, Australia, where her current project examines colonial genocide in Australia.
Register to tell a friend about this lecture.
Comments
If you would like to comment about this lecture, please register here.