'How to dismantle the NHS in 10 easy steps' with Dr Youssef El-Gingihy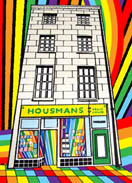 Tower Hamlets GP Youssef El-Gingihy discusses the NHS and explains how it has been gradually been converted into a market-based healthcare system over the past 30 years.
The NHS is the closest thing we have to a collective heart, so naturally when we hear of it being 'privatised' and 'dismantled' this evokes a negative response. It instinctively makes sense - we have a Tory government after all and they seem to quite like privatising stuff. However, it's a bit confusing because we still appear to get free healthcare at the point of service. Who cares if it's being taken over by 'health trusts'? You can still get your hip replaced or a cancer removed … What's all the fuss about?
Youssef El-Gingihy's accessible short book shows us why this attack on our most cherished public service is so important - a process that has been underway since the 1980s under Margaret Thatcher. Youssef provides a wealth of quite incredible information in 71 pages, so if you ever find yourself faced with a Tory offensive, you will be ready for the fight.
And it's not just a Tory problem; El Gingihy shows that every government over the past thirty years has contributed to the demise of the pride of the UK. And here's how they are doing it.
El-Gingihy then sets out a number of ways in which we can fight back, and if you aren't willing to take to the streets after reading this, then you must be part of the ruling class. With TTIP potentially on the horizon (giving companies the ability to sue governments if their decisions affect their profits), the fight only becomes more difficult as every day passes.
However, with Jeremy Hunt's recent attack on Junior Doctors, it is becoming ever more clear to the general public that with the Tories left in charge of the NHS (or any other public service for that matter), it will become more and more of a ludicrous business opportunity for their mates, and less of a public service.
Although, recent history tells us that the right of the Labour Party is complicit in all this.
Nye Bevan, the creator of the service once said, 'The NHS will exist as long as there are folk left with the faith to fight for it.' El-Gingihy's book provides us with plenty of ammunition for that fight.
Dr Youssef El-Gingihy is a general practioner at Bromley by Bow Health Centre, east London. He is author of How to Dismantle the NHS in 10 Easy Steps, published by Zero books.
Register to tell a friend about this lecture.
Comments
If you would like to comment about this lecture, please register here.