Thieves of State - A Conversation on Corruption with Sarah Chayes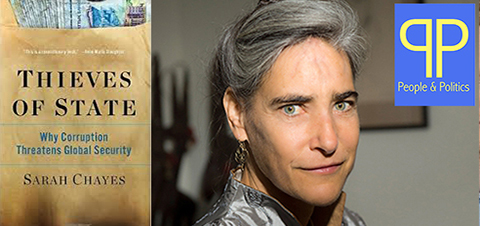 How is corruption in the US and UK governments similar, or different, to that of the Afghani government? Why is 'corruption' not talked about with respect to US or UK governments, and what does this mean for how we think about American and European forms of democracy? In light of the recent Panama Papers, how do these events fit within the wider narrative of Thieves of State? What are some ways to address existing systems of corruption? Join us for a discussion with Sarah Chayes, award-winning former NPR correspondent.
As part of Season 2 of our People and Politics series, Tribes Divided: How to Bridge the Gap, Sarah will be speaking about her recent book Thieves of State: Why Corruption Threatens Global Security. SarahChayes
Currently a senior associate at the Carnegie Endowment and formerly special adviser to the chairman of the Joint Chiefs of Staff, she is an expert in kleptocracy and anti-corruption, South Asia policy and civil-military relations. Sarah is also the author of Punishment of Virtue: Inside Afghanistan after the Taliban, written after she had covered the fall of the Taliban for the National Public Radio.
Thieves of State explains how the pursuit of personal enrichment by Mafia-like governments provokes extreme reactions that are playing out in headlines every day: militant extremism from the Islamic State to the Taliban to Boko Haram, and revolutions from the Arab Spring to Ukraine's Maidan. In a magisterial narrative that connects the Protestant Reformation to the Arab Spring, Thieves of State "provides a muscular new vocabulary for talking about the problem of corruption" (The New Yorker).
Click here to find out more about Sarah Chayes' work , and watch her on the Daily Show with Jon Stewart here watch her TEDx talk on "How Government Corruption is a Precursor to Extremism" here.
Reviews of Thieves of State:
"Every now and then, a book changes the way you see the world. It's like shaking a kaleidoscope and suddenly all the bits and pieces fall into a new pattern. Sarah Chayes's Thieves of State: Why Corruption Threatens Global Security shook my kaleidoscope." – Rebecca Gordon, The Nation
"Entirely unique… cogent and fascinating" – San Francisco Chronicle
"an important book that should be required reading for officials in foreign service, and for those working in commerce or the military. The story will interest the nonspecialist reader too " – The New York Times
"This is a revolutionary book… Thieves of State stands our understanding of the sources of violent extremism on its head, arguing that the governments we have been relying on to fight terrorism are themselves one of its most potent and insidious sources. Sarah Chayes weaves together history, adventure, political analysis, personal experience, culture, and religion in a shimmering and compelling tapestry." – Anne-Marie Slaughter
"I can't imagine a more important book for our time" – Sebastian Junger
"The target of her zeal is government corruption around the world — an old challenge but one she recasts in urgent and novel terms."Carlos Lozada, The Washington Post
Speaker(s):

Date and Time:

10 May 2016 at 6:30 pm

Duration:


1 hour 30 minutes

Venue:


Book and Kitchen
31 All Saints Road
London
W11 1HE
+44 20 3417 8266
http://www.bookandkitchen.com

More at Book and Kitchen...

Tickets:

£5, reduced from purchase price of the book

Available from:

http://www.bookandkitchen.com/product/people-and-politics-thieves-of-state-conversation-with-sarah-chayes/
Register to tell a friend about this lecture.
Comments
If you would like to comment about this lecture, please register here.