'How to dismantle the NHS in 10 easy steps' with Dr Youssef El-Gingihy'Breathe: Stories from Cuba' w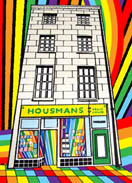 Housmans are proud to welcome Leila Segal to present her short story collection, Breathe (Flipped Eye Publishing). A beautifully observed collection of short stories, Breathe takes the reader beyond the artificial glamour of guidebook Cuba to paint a real and uncompromising portrait of modern-day Cuba.
With sparse and revealing prose, Breathe portrays a series of encounters between Cubans and tourists, deftly exposing cross-cultural tensions and inequalities. Written from the perspective of an outsider, Breathe is remarkable for its insight into everyday life in Cuba, and draws on the time Leila spent living in a rural community in the West of the island. Leila will read extracts from the stories, and talk about life in Cuba, taking questions afterwards from the audience.
Reviews:
"A collection of nine luminous tales ... Segal shows us Cuba at street level. Although Segal is interested in politics, she always shows us the realpolitik of intimate human relationships, too ... rich and evocative.' LA Jewish Journal
"These are stories of encounters, chance meetings and epiphanies in streets that are at once exotic and familiar … shining a spotlight on our perceptions as non-Cubans of the so-called exotic other." Ian McMillan, The Verb, BBC Radio 3
"Each story is like a tiny painting, giving a glimpse into the often hidden and misunderstood lives led by the Cubans." Random Things Through My Letterbox
"[Segal] expresses the complex and conflicting emotions which bind together and splinter apart foreigners and Cubans ... [she] writes about Cuba with a unique style and voice." Brixton Bugle
"Breathe encapsulates the dynamics of some of my own experiences of living in Cuba and in frequent interaction with foreigners. [Segal's] poetic writing eloquently portrays – and stripped of stereotypes – the complexities of the curiosity, power struggles, fears, presumptions, eroticism and cultural clash inherent in such interactions." Ahmed Dickinson Cardenas, multi-award-winning Cuban guitarist
"A look at Cuba through foreign eyes. Relying more on subtleties than on drama, [Segal] portrays the tensions and struggles, but also the joy and warmth, that fill Cubans' lives." Aida Bahr, author of Ofelias, and winner of Cuba's Premio de la Critica Literaria
Leila Segal was born in London, of Polish, Lithuanian and Romanian descent. She trained as a barrister before working in journalism for several years. In 2000 Leila visited Cuba; as soon as she arrived she knew that she wanted to stay. She lived first in Havana, then in the rural far West with her partner and his family. Breathe is her debut collection, for which she received funding from the Arts Council England. Leila founded and directs Voice of Freedom, an organisation that works with trafficked women. Voice of Freedom enables women who have escaped their captors, and sometimes given evidence against them, to use text and photography to talk about their lives. She reads her work regularly in London: www.leilasegal.com
Register to tell a friend about this lecture.
Comments
If you would like to comment about this lecture, please register here.