'Corbyn: The Strange Rebirth of Radical Politics'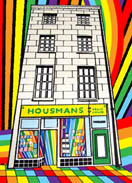 Writer and broadcaster Richard Seymour discusses the political and social circumstances that colluded to make way for Corbyn's rise within Labour and British politics.
Housmans welcomes writer and broadcaster Richard Seymour who will be presenting his new book Corbyn: The Strange Rebirth of Radical Politics (Verso).
With a landslide in the first round, Jeremy Corbyn, an unassuming antiwar socialist, crushed the opposition, dealing a huge blow to the Blairite opposition. For the first time in decades, socialism is back on the agenda—and for the first time in Labour's history, it defines the leadership.
This book tells the story of how Corbyn's rise was made possible by the long decline of Labour and a deep crisis in British democracy. It surveys the makeshift coalition of trade unionists, young and precarious workers, and students who rallied to Corbyn.
It shows how a novel social media campaign turned the media's "Project Fear" on its head, making a virtue of every accusation thrown at him. And finally it asks, with all the artillery that is still ranged against Corbyn, and given the crisis-ridden Labour Party that he has inherited, what it would mean for him to succeed.
Reviews
"Long after the Labour left was thought to be dead, Jeremy Corbyn's emergence has inspired millions. There is no one better positioned than Richard Seymour to take a look at his emergence and whether Corbyn can actually turn Labour into a force for radical change."– Bhaskar Sunkara
"Richard Seymour has a brilliant mind and a compelling style. Everything he writes is worth reading."- Gary Younge
"One of our most astute political analysts turns his attention to Corbyn, and the result is predictably essential: not just to make sense of how we got to this unlikely situation, but for his thoughts on what the left might do next" -China Miéville
"Seymour is an essential voice on the left, and this book is a necessary intervention, explaining this daunting political moment and bringing the focus back to strategy. Not so much a call to arms as a call to brains." - Laurie Penny
About the Author
Richard Seymour is a writer, broadcaster and socialist, currently based in London. He writes regularly for the Guardian, the London Review of Books, Jacobin and many other publications.
Register to tell a friend about this lecture.
Comments
If you would like to comment about this lecture, please register here.