A History of Drugs in Warfare – Lukasz Kamienski on Shooting Up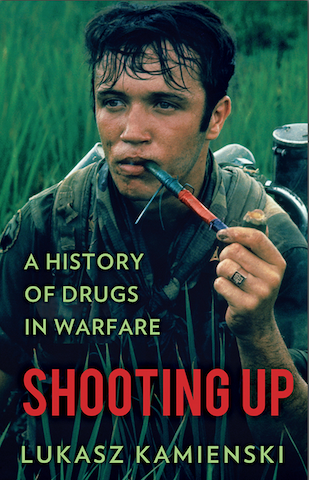 Join us for a conversation with Lukasz Kamienski on the history of drugs in warfare, from Antiquity to present day.
Shooting Up is an original and comprehensive history of the relationship between fighting men and intoxicants, from Antiquity through to the present day. Lukasz Kamienski explores why and how drugs have been issued to soldiers to increase their battlefield performance, boost their courage and alleviate stress and fear — as well as for medical purposes. He also delves into the history of psychoactive substances that combatants 'self-prescribe', most notoriously taken by GIs in the Vietnam War, but also as far back as the Vikings.
Speaker(s):

Date and Time:

15 June 2016 at 6:30 pm

Duration:


2 hours

Venue:


Book and Kitchen
31 All Saints Road
London
W11 1HE
+44 20 3417 8266
http://www.bookandkitchen.com

More at Book and Kitchen...

Tickets:

£5

Available from:

http://www.bookandkitchen.com/product/historyofdrugsinwarfare/

Additional Information:

Ticket price is deducted from the price of the book if purchased during the event.
Register to tell a friend about this lecture.
Comments
If you would like to comment about this lecture, please register here.